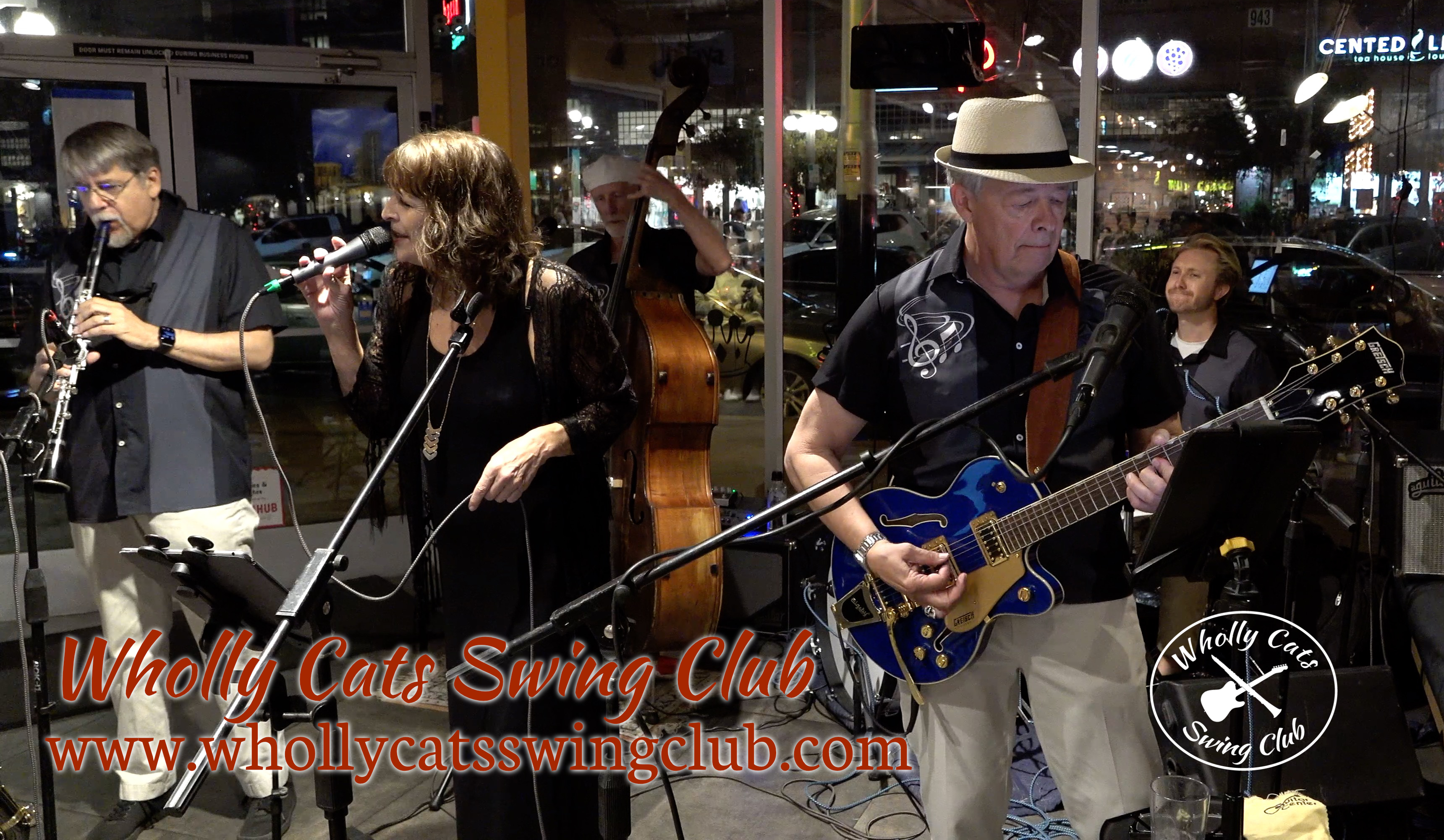 First Things First….
Thanks to everyone who braved the weather last Friday Night and joined us for an impromptu indoor show, pictured here, at Snakes and Lattes. We made some new friends, got reacquainted with some old friends, and were dazzled by the great swing dancing all evening long. We LOVED playing for you!
Very Special Thanks to Main Gate Square, KXCI and Jonas Hunter Productions for making it all happen so we could play in spite of Hurricane Hillary.
Thanks also to KXCI for playing our single, "Fever", last week.
Please Mark Your Calendars for these upcoming Live Music Events by Wholly Cats Swing Club…
Tuesday, August 29: Join us for our debut performance at The World Famous Rhythm Room, 1019 E. Indian School Road, Phoenix, AZ. Doors open at 6pm. Swing Dance Lesson 630-7pm. Show starts at 7 with Pat Roberts and The Heymakers, followed by Wholly Cats Swing Club at 815. Please CLICK HERE for Ticket Information.
Friday, September 1, 7-930pm, Friday Night Concerts at Steam Pump Ranch. We are coming to beautiful Oro Valley for this free concert event. Bring a chair, blanket and your dancing shoes for a night of Classic Swing Music on the lawn. Please CLICK HERE for more information.
Thursday, September 28, 6-8pm, Swing Dance Night at The Gaslight. Join us as we return to Gaslight Music Hall in Oro Valley for an evening of high energy swing dance tunes. Get your tickets early for the best seats. CLICK HERE for ticket information.
Thursday, October 5, 7-930pm, Pete Swan Presents Wholly Cats Swing Club at The Century Room. Join us for an evening of intimate performances of the hits of The Great Swing Era in the style of the artists who made them famous: Benny Goodman, Peggy Lee, Louis Jordan, Duke Ellington and many more … plus a few special surprises. (Reserved ticket information is not yet available.)
Swing, Baby, Swing!
Wholly Cats Swing Club